Extra-virgin olive oil: essence of taste and health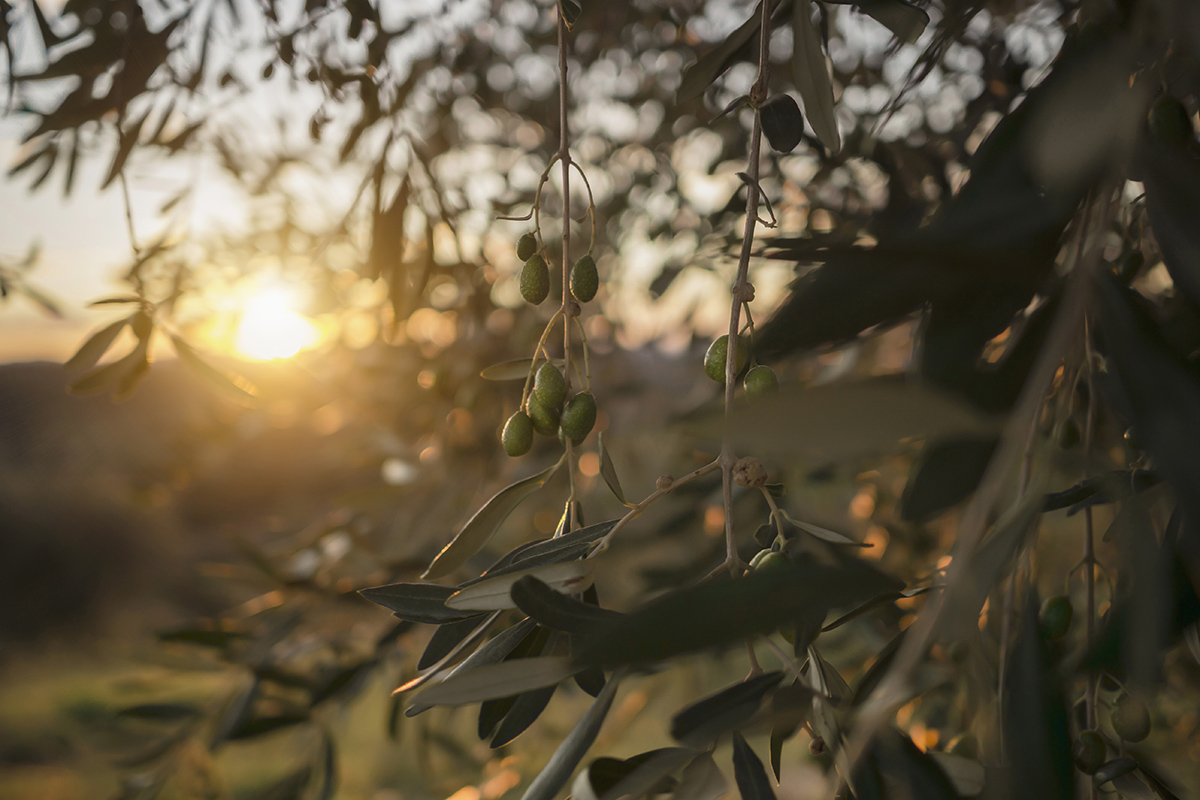 Straw-coloured, pale yellow, light green, ochre, golden yellow: extra-virgin olive oil comes in many different shades depending on the sunlight, energy, balance and nature:  And here on Lake Garda, we are the most northern place in the world, where olive trees can be cultivated.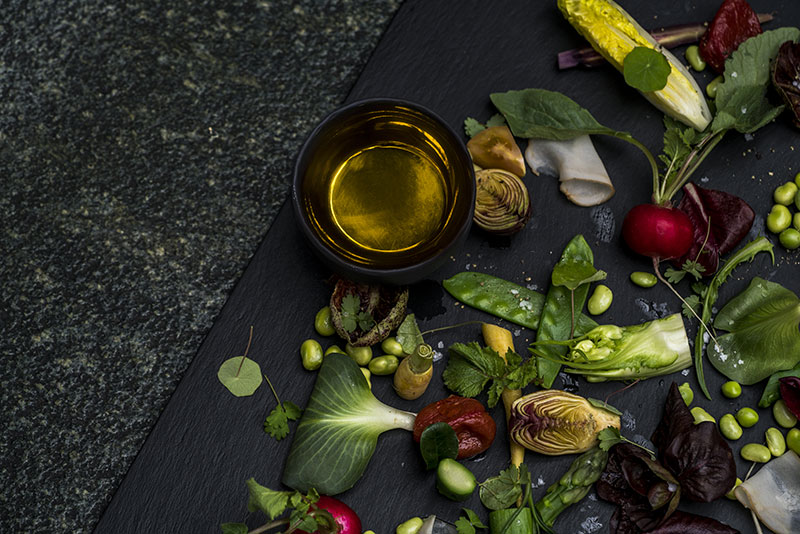 The lake's special climate and the uniqueness of this region makes the local olive oil extra special.  This is why our vital cuisine uses this ingredient in many of our wellness recipes.
Extra-virgin olive oil from Garda is savoury but delicate – it has a light taste and fruity notes with flavours of fresh grass, artichoke, hay, aromatic herbs and thistle.
Olive oil is known for its positive effects on wellbeing, endorsed by many of the most influential research institutes worldwide.
It is rich in antioxidant substances, including vitamin E, oleic acid and polyphenols, protecting the body from the free radicals. In addition the anti-inflammatory properties protect our arteries by regulating levels of LDL the so called "bad cholesterol" circulating in our body.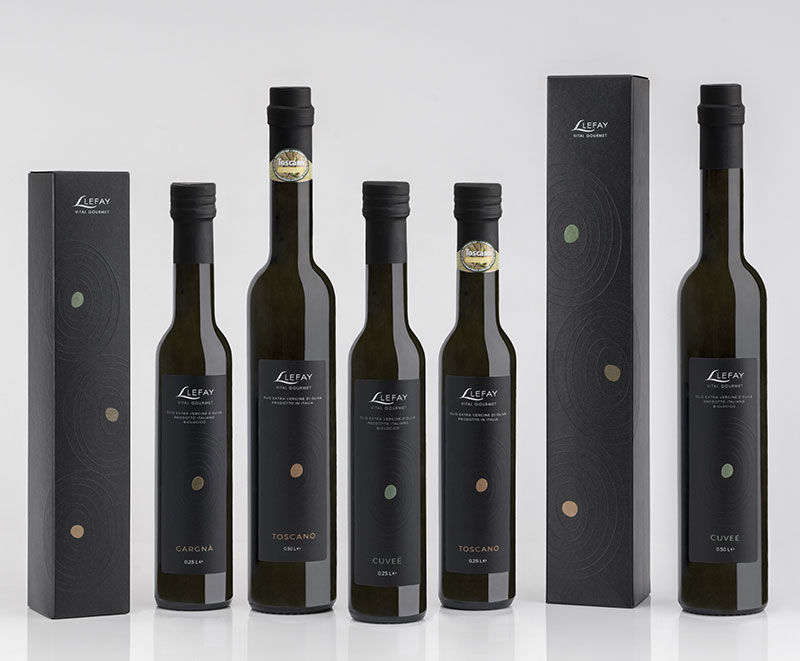 Olive oil fits within the principles of our sustainable cuisine philosophy – Lefay Vital Gourmet – which is about delicious flavourful healthy Italian food, using seasonal ingredients and local producers.
We use three different types of local extra-virgin olive oil: "Gargnà" and "Cuveè", produced on the hills of Lake Garda and organic certified and "Toscano", directly from the heart of Maremma, in Tuscany, with the special IGP designation.
An example of a dish created by our Executive Chef, endorsing this concept of flavour and health, is "I Fagotelli": handmade pasta filled with extra-virgin olive oil in seafood stew.
The recipe from the Lefay SPA Menu, which offers a detoxing dietary approach aimed at improving our attitude towards food without compromising on taste.
FAGOTTELLI WITH LEFAY EXTRA VIRGIN OLIVE OIL IN SEAFOOD STEW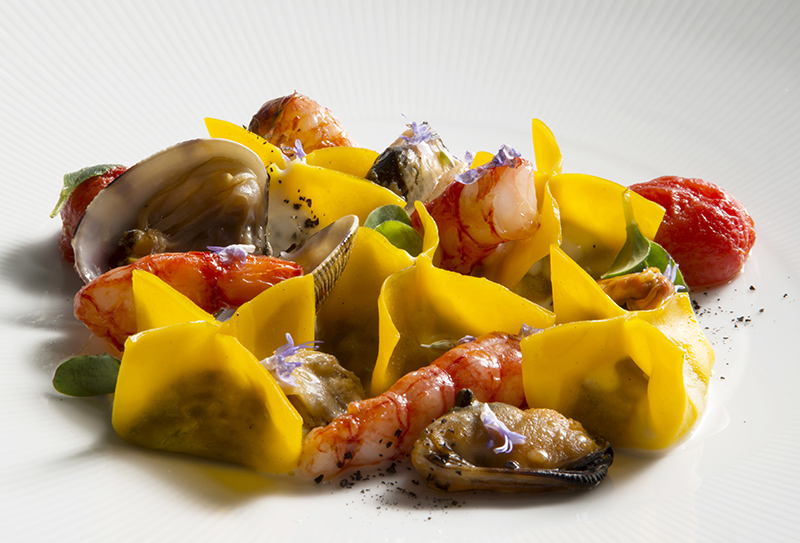 Serves 10:
FAGOTTELLI PASTA DOUGH
1kg pasta flour
800g egg yolk
10g salt
FAGOTTELLI FILLING
9g gelatine powder
120ml extra virgin olive oil
SEAFOOD STEW
300ml fish stock
90ml extra virgin olive oil
20ml garlic confit oil
10ml lemon juice
10ml reduction of white wine
150g potatoes, peeled & boiled
TOMATO SAUCE
300g datterino tomatoes
thyme
1 clove garlic, finely sliced
SEAFOOD
750g squid
800g medium red prawns, peeled
800g clams
1kg mussels
zest of 1 lemon
small leaves basil & chervil
Add salt and flour to the egg yolks. Mix and work energetically until you have a smooth dough, then cover with cling film and leave to rest in the fridge for 4-5 hours. It's best if you prepare the dough the day before using it.
For the filling, dissolve a pinch of salt in 150ml of hot water. Add the gelatine powder and leave to rest. Once the gelatine has hardened, beat with 50g still water and emulsify with the oil.
To prepare the fagotelli, roll out the egg pasta dough into a sheet 0.5mm thick, then use a 7cm diameter cutter to cut out discs of pasta. Place around 15g of the oil-based filling in the middle of each disc and fold it in half, making sure that the edges match perfectly. Seal the ravioli, gently pushing out any air. Finally, carefully pull the pointed ends together until they meet.
Blend the seafood stew liquid ingredients with the boiled potatoes and season with salt.
Wash the datterino tomatoes and place them on a baking tray. Cook for 4 minutes at 250°C, then peel and place them in a 1/3 or 1/2 Gastronorm or similar steel container. Season with salt, sugar, thyme, the garlic and plenty of oil until they are almost covered and cook for 2 hours at 130°C. Leave to cool in their cooking liquid.
Cook the fagottelli in boiling water for 4 minutes.
Meanwhile heat a pan until hot, quickly brown the squid, then remove from the heat and add the stew, followed by the prawns, clams, mussels and semi-dry datterino tomatoes.
Drain the fagotelli, quickly mix with some of the cooking water and a little extra virgin olive oil, and grate over a small amount of lemon zest. Arrange the fagottelli in the plate with the seafood stew on top. Dress with the small basil and chervil leaves