Natural cuisine for wellbeing and health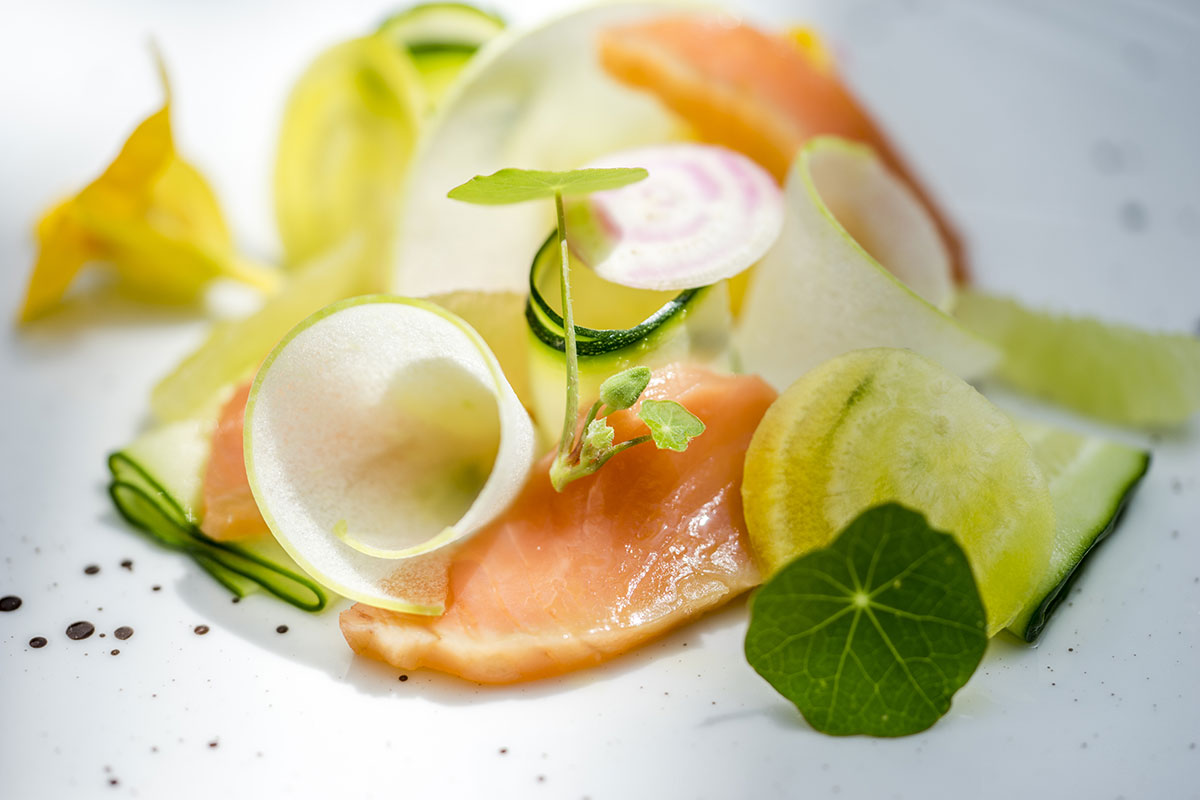 We are what we eat. An incontrovertible fact which is at the base of Lefay Vital Gourmet philosophy and, even more carefully, in its Lefay SPA proposals.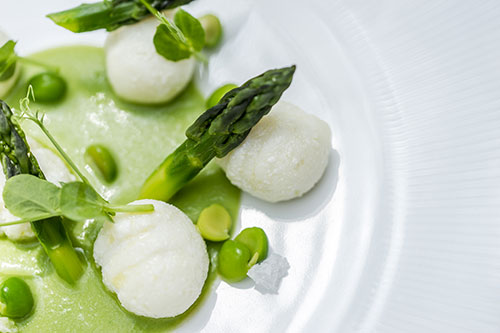 Science promotes a healthy diet not only because it can guarantee a longer life, but also because natural cuisine, which uses products grown without pesticides and chemicals, is sustainable for the planet.
Eco-sustainable cooking is one of the ways that can help us take care of the environment and of our daily life, made up of work, family, friendship, love and moments of relaxation and well-being for body and soul.
Today, protecting the environment through sustainable development and consumption models is essential for everyone's overall well-being.
Lefay Vital Gourmet: ethical and sustainable cuisine
Sustainable cooking means preparing our favourite dishes in a different way but also living by putting both man and Earth at the centre of life, to ensure a green and clean future for next generations, without climate change and disasters.
Is it possible to start with the cuisine? Yes, of course!
It is also for this reason that Lefay has decided to place the emphasis on natural cuisine to complete its philosophy, which sees man and environment at the centre of the hospitality concept.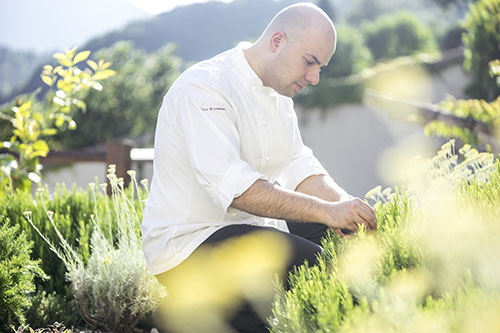 It is called "vital cuisine" and the goal is to provide Guests with the opportunity to eat healthy while rediscovering true flavours for a unique sensory experience. With this aim, Lefay Vital Gourmet culinary concepts uses natural products subjected to strict controls that certify their origin, production chain, how they are manufactured and how they arrive on our table.
Our Brand chooses only the freshest ingredients of sustainable agriculture in full respect of nature to create dishes that champion the most authentic flavours of the region, following the principles of sustainable cuisine and enhancing local aromas.
Natural recipes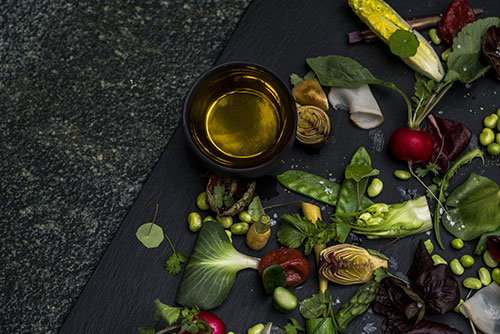 Firmly convinced that "Even food can become food for the soul", Lefay has created in cooperation with the Lefay SPA Scientific Committee slightly low-calorie and low-sodium dishes, with detoxifying properties and prepared with cooking methods that do not stress excessively the digestive system and help to reduce the risks related to diseases such as cholesterol, hypertension, high blood sugar, helping a natural healing process and promoting prevention with the right diet.
SUSTAINABILITY IN A FIRST COURSE BY
THE EXECUTIVE CHEF MATTEO MAENZA:
Saffron Carnaroli rice, Gargnano capers, lemon and Claudio Corallo chocolate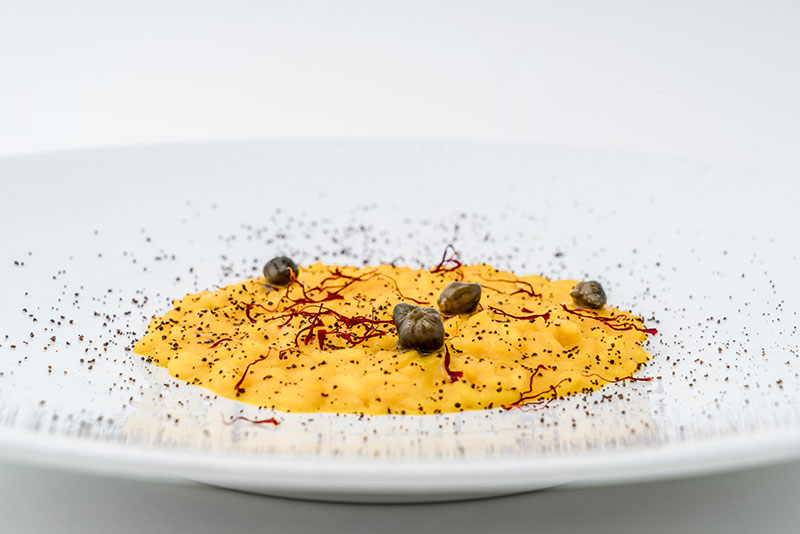 Ingredients                                                        
80g carnaroli rice "Grumole delle Abbadesse", from the lake's shore of Verona
3g flower of salt to toast
10g cold white wine
30g butter to cream
10g Parmigiano Reggiano
2g fresh lemon juice
1g saffron pistils from Pozzolengo
1lt bottled natural water
Gargnano caper powder
Claudio Corallo Chocolate 75%
Chicken broth
For the broth
6 chicken legs
3 carrots
1 stalk of celery
½ medium-sized toasted onion
branches of parsley
5g coarse salt
For the sour butter
1lt white wine
1lt white vinegar
7 white onions
750g soft butter
1 laurel leaf
3 coriander seeds
Preparation
BROTH:
Make a very light chicken broth by combining 6 chicken legs (or 10 spindles) previously thoroughly washed with water and deprived of the skin in a 20 lt pot. Once boiled, skim off the scum and add 3 carrots, 1 stalk of celery, ½ toasted onion, a few branches of parsley and 5g of coarse salt. Cook for about one hour and filter.
SOUR BUTTER:
Mix vinegar, wine, spices and julienned onions, simmer until the liquid is completely absorbed, then put the onions into a bowl and add the butter in small pieces using a whisk, filter everything with the chinois, place in a container of 1/6 and store in the refrigerator.
RISOTTO:
Toast the rice in a small saucepan (without oil and with a few grains of flower of salt), add the white wine cold from the refrigerator and cook the rice for about 12 minutes, sprinkling it with chicken stock. Mix the risotto with butter, grated Parmesan cheese, a little bit of lemon juice and xeres vinegar. Adjust the taste and arrange on a flat plate. Sprinkle the surface of the risotto with untreated lemon peel and caper powder, then grate the dark chocolate.